Organic Herbal Salves and Lip Balms
Our organic, hand-crafted herbal salves are made with lots of love!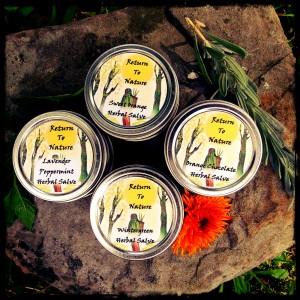 We use only the finest organic ingredients to formulate an all-purpose salve that is yummy, moisturizing, healing, and smells excellent!
These 1/2 oz salves can be applied as a lip balm, or an ointment.
They are the perfect size to easily be stored in your pocket or purse, and a good consistency to not melt inside of it. We have 4 flavors available – Orange chocolate, Orange, and Lavender Mint, and Wintergreen. Other custom flavors are available by request! Let us know what you like!
Email to Inquire: Dan@returntonature.us
The ingredients (All organic): beeswax, coconut oil, calendula and sage infused olive Oil, and essential oils of Lavender,  Mint, and Orange, With Cocoa Butter and raw cacao powder (added to the orange chocolate salve). These ingredients are known to help with dry skin, eczema, psoriasis and infections, bruises, tendon or ligament damage, or scraped knees.
We also have 2oz and 4oz jars by request.
All proceeds go towards delivering the loving message of Return to Nature and building community resources toward a sustainable paradigm. We are dedicated to creating a sustainable "cottage industry" model through the products aspect of RTN. If you have something you would like to trade for our salves, email us and we would be happy to discuss possibilities.